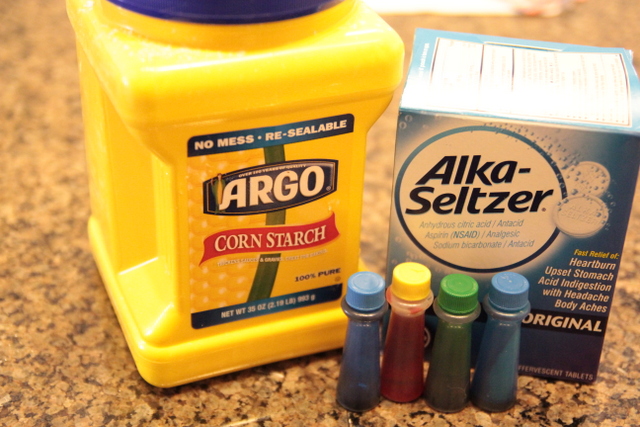 Equal parts Corn Starch and Water to make liquid chalk.  You have to stir it well so that is a liquid and not ooblek.  Then put a drop of food coloring in each film canister.  You can get film canisters on amazon. Link?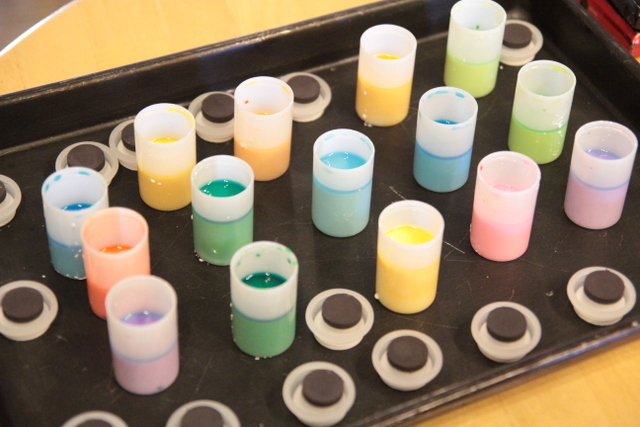 My original plan was to glue the alka-seltzer tablets to the lid of the canisters and magnets to the tops so that I could use a cookie sheet to flip them all over at the same time.  The super glue did not hold the tablets well so we resorted to dropping tablets in the canisters and capping one at a time.  It was still a lot of fun.  After a couple rounds the kids took over and it was a success.  Highly recommend this project.
I tried so hard to capture a rocket launching but they were so fast! The benefit to adding the cornstarch and food coloring is the colorful mess but, to be honest, it was fun to just have a bucket of water and quickly refill the rockets and reuse the tablets until they were completely dissolved.