"This shop is part of a social shopper marketing insight campaign with Weave Made Media® and Farmland/Smithfield, but all my opinions are my own. #weavemade #ReadySetRibs http://my-disclosur.es/RgFrEH "
Think about the best ribs you've ever had.  The meat is so tender and juicy.  It falls right off the bone and melts in your mouth.  The BBQ sauce is the perfect blend of sweet and spicy. MMMMmmmmmmmm!!!!!!!  Just mention BBQ to a group and you're guaranteed to hear stories of the best ribs.  Where to get them, who has the best recipe, which sauce is the best.  Arizona is better known for Mexican food but there are a few good BBQ restaurants and everyone has a favorite.  Eating out is always fun but being able to create your own masterpiece and having friendly competition with family is FunAwesome!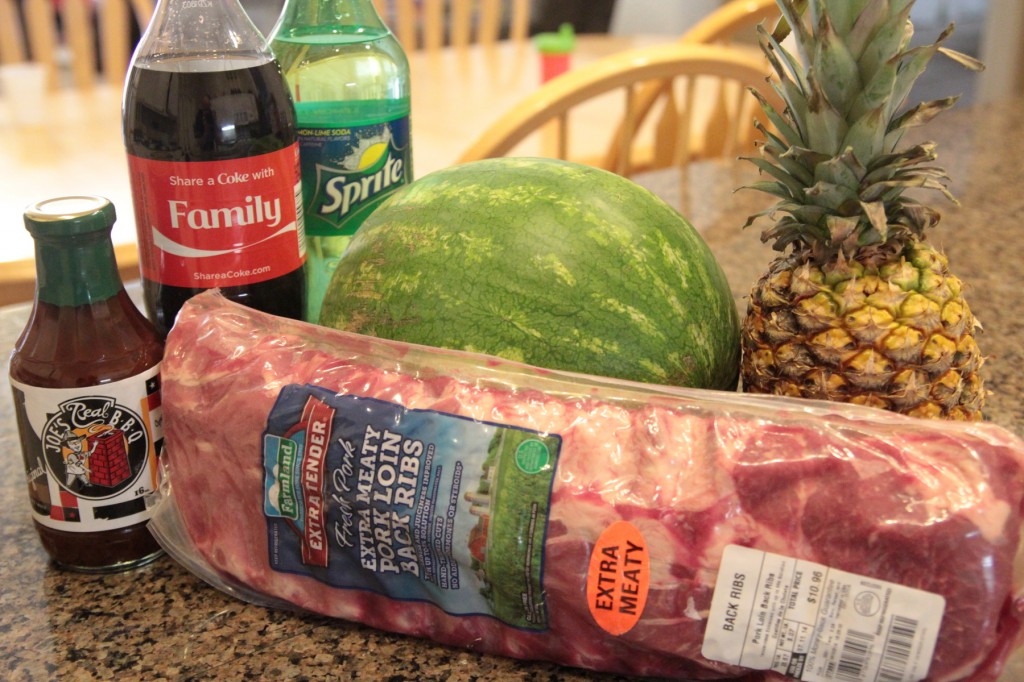 Here's the story. We found Farmland Pork Ribs for about $10/rack at Walmart with an additional $1 off coupon (also known as Smithfield in some regions). We decided to text Sarah's siblings to see who was up for a rib off if we provided the meat.  We picked up 4 racks of ribs and dropped them off with 3 of her siblings and gave everyone 24 hours to find a recipe, cook the ribs and bring them to my in-law's house for judging.
I'll admit my grilling experience is mostly hamburgers, hotdogs and an occasional chicken breast.  I could be wrong, but I think this was my first time grilling ribs.  Sarah has done boneless ribs in the oven and crockpot but we all know true BBQ needs to be done on the grill or in a smoker.  Time to man up and learn a new skill.
Finding the Perfect Recipe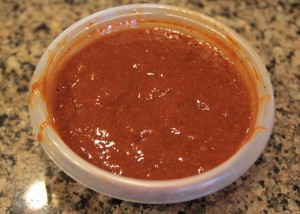 We have had experience marinating ribs in Coca-cola and have found that it tenderizes pork really well while also adding a nice sweet flavor.  We did some research and looked at a few recipes that involved Coca-cola.  Ultimately in our research, we found some good advice on grilling techniques from BBQ Pitmasters.  Did you know there are real serious BBQ competitions?  Show me where to sign up as a judge.  What I decided to do (and this may be an unfair advantage) is to try two different sauces.  One from our favorite local BBQ restaurant and one was a homemade sauce that involves coca-cola and ketchup.  Then we could test which one we liked best and submit that.  We also marinated the entire rack in Coke and Sprite overnight.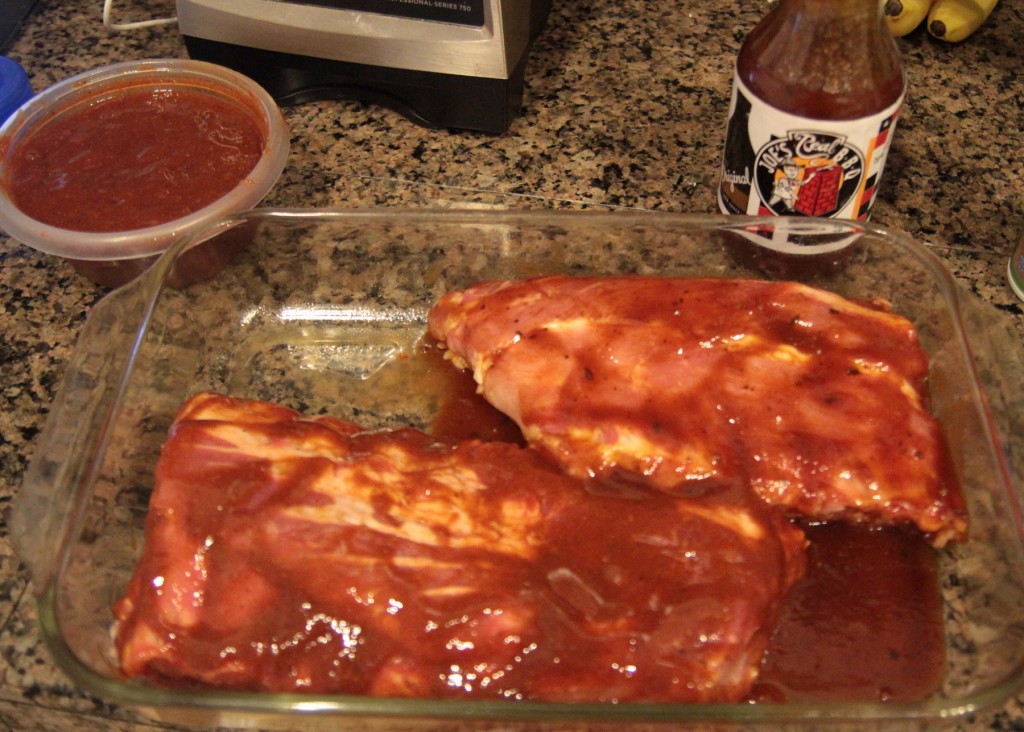 Cook It Slow
We learned the key to ribs is cooking it slow.  The recipe we followed suggested 2 1/2 hours at 225 degrees.  I think this worked well but I also enjoyed the ribs my sister-in-law made where she put the ribs in a crock pot for 8 hours. The crock pot ribs fell right off the bone and had good flavor as well.  You still had to work a little to get the meat off the bone with our recipe but it was very juicy and tasty meat.  We didn't taste any bad ribs at the rib off.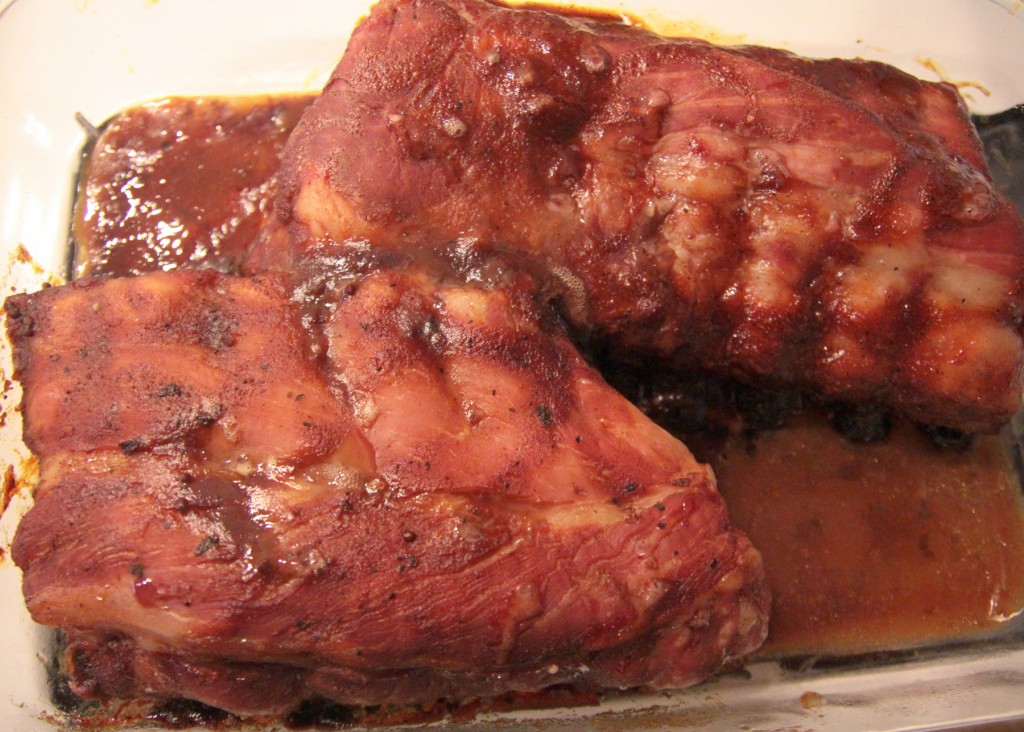 After 2 1/2 hours in the oven our ribs were tender and fully cooked we just needed to get the BBQ flavor sealed in on the grill.  We reapplied BBQ sauce to each half rack and cooked them on the grill on medium high for about 15 minutes.  We grilled a few pineapple slices with them as well because who doesn't love grilled pineapple?!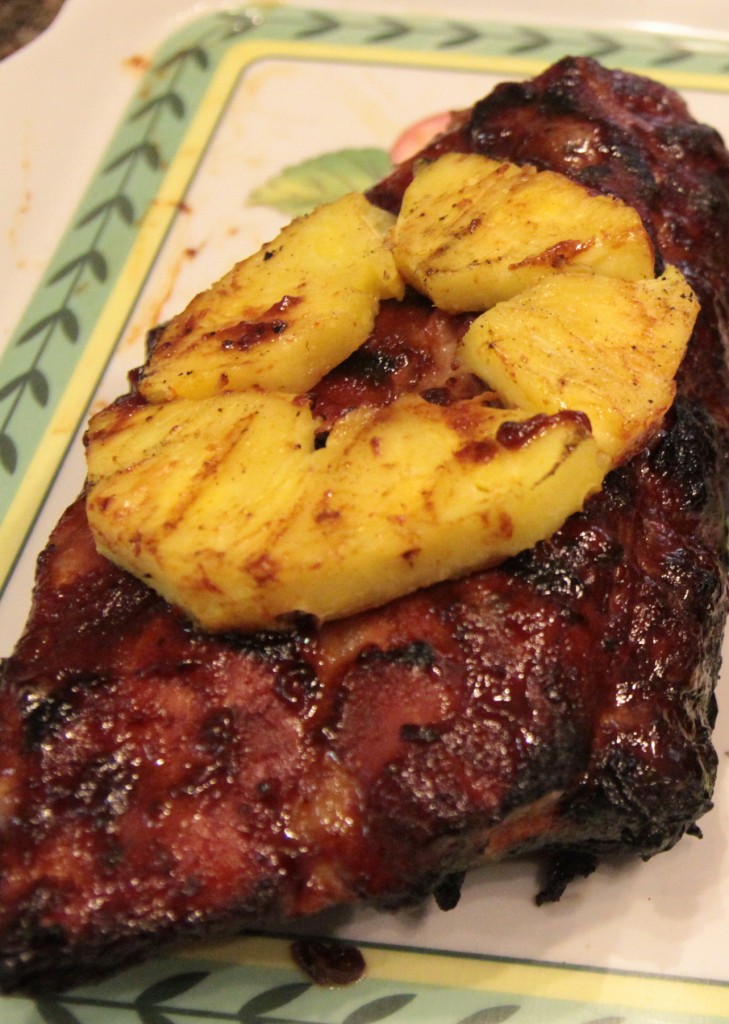 The end result was a huge success!  Everyone loved the idea of the rib off! My father-in-law was the judge and we all got our fill tasting each others recipes.  I'll share each recipe with a brief review.

Our recipe was adapted from FramedCooks.com I followed their procedure but slightly modified the recipe.  I added sprite along with the Coke to the marinade.  I also reduced the amount of ketchup to about 1 1/4 cups and used teaspoons rather than tablespoons on all the spices.  The result was delicious!
Contestant 2 used a Spicy Texas Ribs recipe from Paula Dean.  These ribs had a very unique flavor.  I usually like BBQ to have some sweetness. These were more spicy than sweet but I enjoyed them.
Contestant 3 used a simple but tasty recipe from sixsistersstuff.com It was a crock pot recipe with pineapple juice and brown sugar. I would highly recommend this recipe especially since it sounds so simple and they tasted awesome!
Contestant 4 found a Cranberry Cola Ribs recipe which was also done mostly in the crock pot. The texture was much like contestant 3 with a unique cranberry cola flavor which are two flavors I love.
Every rib was devoured from every contestant!  Who won? Doesn't matter because RIBS!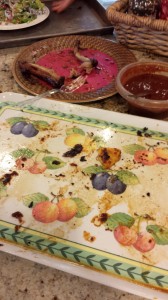 Have a FunAwesome 4th of July!
Grab some Farmland/Smithfield ribs with the $1 Off coupon and try one of the recipes above.  I'd love to hear how it turns out.  Take advantage of the  $1 off coupon while supplies last.  I'm excited to make some adjustments and do this again soon.